Join our next Synthetic Phonics Course live!
Join our most popular live training course, online, from anywhere in Australia.
The final session for 2023 will be held on 1 December 2023, and for NSW teachers, this is a NESA accredited course.
Get in before 4 November 2023 to get the the best price!
Sharing Best Practice 2023
Purchase this replay of Sharing Best Practice 2023 and support Liverpool Hospital School!
The available presentations and panel discussions are as follows:
Introduction – Troy Verey
Manisha Gazula – It's Now or Never
Sarah Trestrail – Explicit Writing Instruction in K-2
Lyn Stone – The Vocabulary and Spelling App
Cody Breasley and Natalie Blanch – Blanks and Blocks: The Keys to Student Planning
Jo-Anne Dooner and Justin Caban – Teaching Writing using Blocks and Blanks®
Panel Discussion/Q&A (Manisha Gazula, Glenn Fahey, Nick Parkinson, Jennifer Buckingham)
Please show your generous support for Liverpool Hospital School, and enjoy some great sessions from the SBP2023 Sydney event!
NESA Accredited Full Day Self-Paced Training Courses
Synthetic Phonics Modules
+Exclusive modules on All Access PLUS
+Dem lessons on All Access Pass PLUS!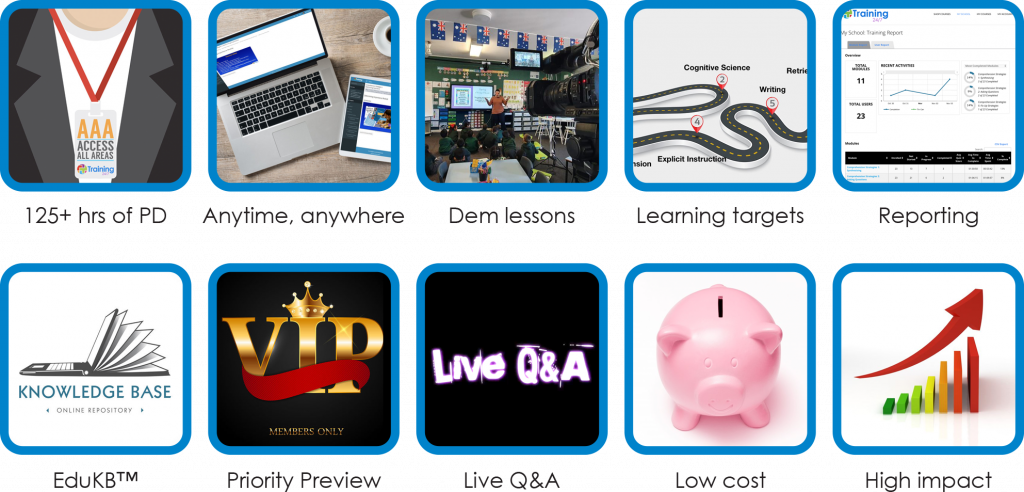 Get access to everything here and more with All Access Pass PLUS!
For less than the cost of a casual teacher, you can get 12 months of all of the below PL, exclusive demonstration lesson access, and so much more.