Joining a Face to Face or LVC Course
Purchasing
You can purchase one or more tickets to our courses via our online shop.
We highly recommend you take up as many of the discounts we offer on these courses as possible. You can combine discounts to save quite a bit on the ticket price!
If you are purchasing on behalf of others, please let us know who the attendees will be (per the "information we need" section below).
Information We Need
We will need to know who is attending the course. We will need their first name, last name and email address so as we can contact them about the event, and in the Live Virtual Class case, this information may be needed to create or update an account on our system.
You can provide this information in the notes section with your order, or simply contact us and we will make sure we have all the right people on our registration list.
Please note: Providing their email address does not sign them up to our mailing list, only people who choose to be on the list explicitly are added.
Joining an LVC
We have instructions on how to join an LVC here: How to join a Live Virtual Class
Self-paced modules
Purchasing
You can now purchase modules for yourself, yourself and other people, or just other people.
When making a purchase of online modules, please select the correct value from the drop down list after inputting the quantity of people you would like to purchase for:

If you select "This purchase is for me" or "This purchase is for me and others" (depending on the quantity entered), your account will automatically be enrolled into the course immediately.
If you would prefer to purchase now, and use later, or allocate all accounts (including your own) together, you can select the "This purchase is for others I will nominate (later)" option, even if this purchase is for you.
Allocating Licenses or 'Seats' in a self-paced module
You can now self-manage access to courses you have purchased on behalf of others via our Licence Management Portal.
Click on "My Account" -> "Manage Module Access" to start allocating seats in a course to participants. The screen will look something like this:

Allocating a licence, one at a time
From here you can click on the drop down to select the purchased licence(s). When you do so, you will see a screen similar to the following if you have licences you can allocate (in this example, 2 licences have been purchased but are unused):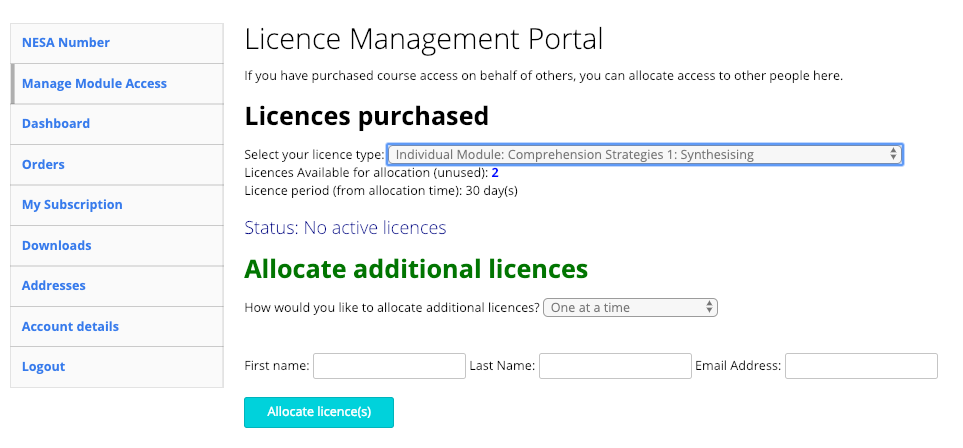 You can allocate a licence to a person (whether they have an account or not), by entering their first name, last name and email address. Please ensure the information entered is correct before clicking "Allocate licence(s)", this information is critical and correcting mistakes will require help from our support team.
Allocating licences in bulk
You may wish to setup a large number of users in bulk, and you can in the field that asks "how you would like to allocate additional licences", select "Multiple using CSV format" per the screenshot below: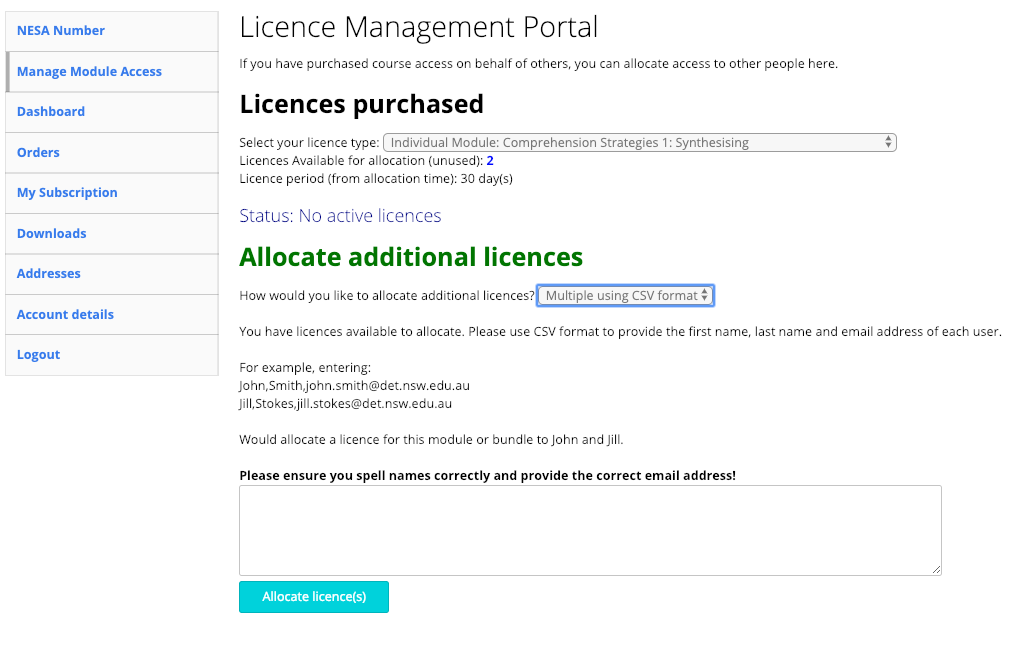 Again, it is critical information entered in is done so accurately. Each line represents one user, and the format is:
first name, last name, email address
Please add this information, without spaces, with one entry per line. For example:
john,smith,john.smith4@det.nsw.edu.au
jane,smith,jane.smith2@det.nsw.edu.au
jack,peterson,jack.peterson@det.nsw.edu.au
ashley,ryan,ashley.ryan9@det.nsw.edu.au
would add these example users, John, Jane, Jack and Ashley.
Getting Started With Self Paced Modules
You can get started with our online, self paced modules by following these instructions: How to use self paced modules.
Troubleshooting
If you are having issues with our website when using online modules, please visit the troubleshooting page for assistance.
NESA and maintenance hours
All NESA Registered PD providers were de-registered in late 2020, and the concept of NESA Registered PD no longer exists as of the time providers became deregistered.
NESA is transitioning to a new 'Accredited PD' model in 2021, instead of 'Registered PD'. Please see the following site for further information NESA PD Requirements.
PD Previously referred to as NESA Registered PD (NSW Teachers)
Training 24/7 is responsible for logging maintenance hours for PD you attend with us, with NESA. However, please ensure you have shared with us your NESA number so as we are able to do so. For online training, you can set your NESA number under "My Account" -> "NESA Number".
I will or have completed face to face or Live Virtual Class training with you, how do my hours get logged?
Prior to 5 February 2021, we would generally need your NESA number to log hours for you as mentioned above. In some cases we can locate you without it.
If you have joined us face to face, we request your NESA number on the sign on sheet. If you have joined us online, you can now set your NESA number on your account by clicking on "My Account" and then "NESA Number", and adding your NESA number in.
I will or have completed self paced training with you, how do my hours get logged and when will this happen?
Priort to 5 February 2021: Please set your NESA number by clicking on "My Account" and then "NESA Number", and adding your NESA number in.
We will generally need your NESA number to log your hours for you, and if we have it, you can expect to have your hours logged within 30 days of your completion. Please note that entering data into eTams is a manual process (today) and therefore it is completed periodically – not immediately upon completion of a module.
I have completed training with you, but my hours have not been logged
Training 24/7 can no longer log hours with NESA from 5 Feb 2021 (including previous hours). From this time, hours will need to be added to eTAMS directly by teachers. At time of writing, Training 24/7 is awaiting the full accreditation process from NESA, so as we can apply to have our courses fully accredited. Until something changes, all PD must be logged as elective PD.
For previous hours. There are some reasons hours may not be logged. These are the most common:
We may not have your NESA number on file (and/or we cannot find you on eTams). You can set it here.
We have been provided an incorrect NESA number (please verify you are providing us with the correct number)
We have not been able to log your hours under certain circumstances such as an account being provisional at the time
We have not completed the hour logging for the course you completed as yet (please note this is manual, not automatic, so we periodically update hours – this is not instant).
If you do not complete a course properly (even if you mark it complete), we may not register your hours for that course with NESA. Please note: There are technical checks for compliance purposes, that aim to help us identify cases of courses that have not been completed properly (for example, if the course was skipped through). If courses are not completed properly, this may be recorded and highlighted for our review. Such information may be also visible to, or shared with, your school's leadership and/or NESA.
There may be other reasons, but these are the most common.
If you have provided us with a valid NESA number and following course completion you have not had your hours logged within 30 days, it could simply come down to a mistake on our part or something else being amiss. Hours are entered manually into eTams (at time of writing), and in large quantities, one at a time. We are imperfect humans, and although we try to avoid them, it is always possible we may simply make a mistake which we'd be happy to correct if that is the case.
In short, if you have attended a course with us, but not had your hours logged for any reason – you may Contact Us however we are not permitted to make any further changes with NESA at this time.