What Makes a Book Decodable?
By Jo-Anne Dooner
15 Nov 2021
I can really read this one!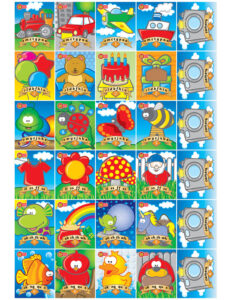 Phonics works! Decodable books work. Indulge me while I recount a story that has stuck with me for years.
I was walking through the playground of a school where I had just finished a series of demonstration lessons, when a little person approached me. She asked if I was the same lady that taught her class the phonics lesson a few weeks ago. I told her I was. She then informed me that she could now read.
"Wonderful!" I gushed.
She then produced from her backpack one of our single word practice books, began to decode the words and turn the pages. When she finished, she said, "See! I can read this."
"Yes. I heard!" I replied.
"No, no! I can really read this one."
I knew exactly what that little novice reader was trying to tell me – that she had cracked the code. She was able to lift the words off the page by knowing each grapheme- phoneme correspondence and then use the skill of blending to read her first words. What a miracle! She had not used the pictures to guess!
That story only got funnier when her teacher informed me that she was so proud of herself, that she promptly 'borrowed' the book to take home and read it to her parents.
That story stayed with me all these years because it shows that even little readers know the difference between 'real' reading and pretending. Her school had embarked on a journey to upskill every teacher how to teach systematic synthetic phonics. She had been taught that graphemes represent phonemes, how to match these and then blend all through the word.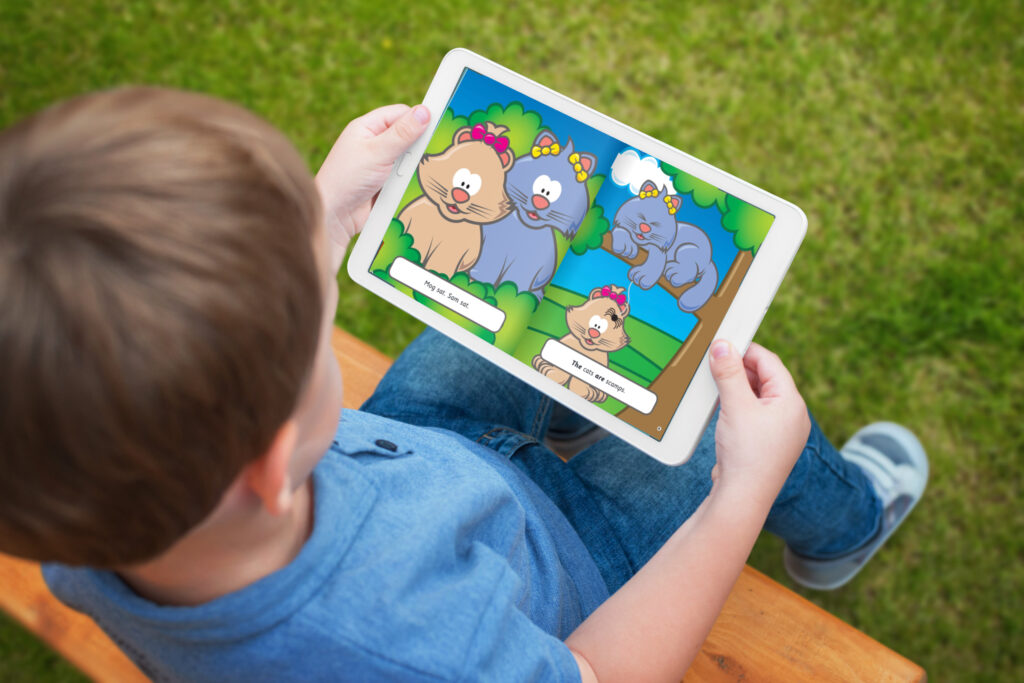 Of course, phonics is only one of the areas of the big 5 of reading, but an essential one. Decodable books are a way to practice every one of the Fab 5!
Phonemic awareness – The student must blend each of the phonemes to be able to read a word.
Phonics – The student must match a phoneme to a grapheme with automaticity.
Fluency – The student must be able to read known words with speed and accuracy.
Vocabulary – Once the words have been decoded, a student must search his or her vocabulary knowledge to find the meaning. Just because a word is decodable, doesn't make it simple in meaning. e.g., cog, pen, fog, scamp, stamp, mascot, pom-pom.
Comprehension – The novice reader must then combine all these skills to understand what is being read. This is the goal of reading.
What makes a book a decodable and not predictable?
The word predict has two morphemes pre (before) and dict (to say). How interesting that many early readers are called predictable texts. In other words, the novice reader is expected to say before reading.  In other words – guess! Predictable texts are usually vocabulary controlled and have a predictable syntactic pattern, such as; I like _____. I like ______. I like ____.
The unfortunate thing about these texts is that many of the earliest words introduced in these books are not decodable for the novice reader. A quick scan of level 1, 2 and 3 texts reveal words such as: come, here, oranges, and look. I've even seen multisyllabic words such as merry-go-round!
A decodable book on the other hand, introduces only simple decodable words that use GPCs that have been taught. The words are simple, usually VC or CVC. The irregular, high frequency words are also controlled. Each decodable book follows a phonics scope and sequence closely. Novice readers have immediate success and see themselves as readers almost immediately.
| | | |
| --- | --- | --- |
| Feature | Early Predictable Texts | Decodable Texts |
| Follows a phonics scope and sequence. | X | ✔ |
| Only decodable words are used. | X | ✔ |
| Has left to right reading. | ✔ | ✔ |
| Contains the return sweep. | ✔ | ✔ |
| Contains examples of varied punctuation. | ✔ | ✔ |
| Contain pictures that help the reader to read individual words. | ✔ | X |
| Contain illustrations that aid with comprehending the story. | X | ✔ |
| Have text that improves vocabulary. | ✔ | ✔ |
At Get Reading Right, we would introduce a novice reader to a varied diet of decodable texts.
Scope and Sequence Video and Downloads
Decodable books should be used as a part of a complete systematic synthetic phonics program. Your school must have a phonics scope and sequence.
You can download two examples here:
(1) Camera words and Phonemes Scope and Sequence
(2) Get Reading Right scope and sequence
What makes a book decodable?
What order should you use each type of  book?

The argument against decodable books usually follows a predictable path – that they are not examples of quality literature. Of course they're not! That's not their purpose. As with every educational resource, we must use them as they were meant to be used.
Decodable books are designed to be used to teach novices TO read. Just because you are using decodable books to teach students TO read, doesn't preclude you from reading quality literature to your students every day.
Read picture books and non-fiction to your class. Discuss their favourite stories and authors. Spend time building students' background knowledge, so that when they can finally unlock the miracle of the English code, they are ready to comprehend what they read!
How do you know which decodables to buy?
The most important thing is to have a scope and sequence and stick to it!
Once you have decided on that, you can supplement your resources with lots of other books. But be careful, you must only give students decodable books that contain grapheme phoneme correspondences they have been taught.
If you have purchased the Get Reading Right books, and are wondering where other decodables fit in, download our chart here to help map decodables to the Get Reading Right sequence.

Watch the video below explaining the chart: