Joining the Live Virtual Class
NOTE: Please do not use Internet Explorer as it is not compatible with our site. Firefox, Chrome, Safari or Edge should work as alternatives.
Click on "My Courses" on our website and login with your account (use your email address as your username). If you have forgotten your password click on "Lost your password?"

Enter in your username and password (this is either what you had setup, or it has been emailed to you), then click "Login"

You will be taken to our "Learning Management System", which will look something like this:
Click on "Live Virtual Class Training" using the menu on the left hand side of your screen:

Now click on the course name, for example "Synthetic Phonics Training 10-MARCH-2017 [Live Virtual Class – Online Only]"

You will be taken to the course page, similar to the following:
Prior to the class (can be done in the days leading up to the class): Click on the "Training Workbook" to download/open the workbook for this class. We recommend you print the training workbook prior to joining the class

The workbook will open in a new tab or new window, and can be printed from here. In chrome, there is a "print" button in the top right hand corner as shown below:

Once you have downloaded and printed your workbook, you can close the pop up or tab. You will not need to do this again for this class, and can skip these steps on the day if you logged in previously printed your workbook.
To join the Live Virtual Class itself, click on the LVC link, which will look similar to the following:

On the next page, click the "Join Meeting" button in the centre of the page:

You may be prompted to download the zoom software and run/install it. If so, please proceed to accept the download and install zoom. You may also receive a dialogue box similar to the following:

For your convenience joining future meetings, click "Remember my choice for Zoom Meetings links" and click "Open Zoom Meetings"
Finally you will see a registration window. Please enter your account's email address, and click "Join Webinar":

You now enter the Live Virtual Class. You may receive a dialogue box that says "Join Computer Audio", if so, please click this button, and then you should be joined to the LVC:
Using the Live Virtual Class
Changing to and from "Full screen" mode
We recommend you use "Full screen" mode when participating in the LVC. To change between modes, click on the "Enter Full Screen" or "Exit Full Screen" button in the top right hand corner of the Zoom application window as follows:
Enter full screen mode:

Exit full screen mode:

Other Functions – Q&A, Chat, Raise Hand
There are options to raise questions, chat with other participants, and raise your hand to gain attention as shown:

These buttons may look slightly different depending on if you are joining with a Windows device, Mac, Android or iOS device (such as an iPad).
Asking a Question
If you wish to ask a question, you can click "Q&A" and ask a question, which can be answered live by the presenter, or one of our experts. Simple type your question in and click "Send":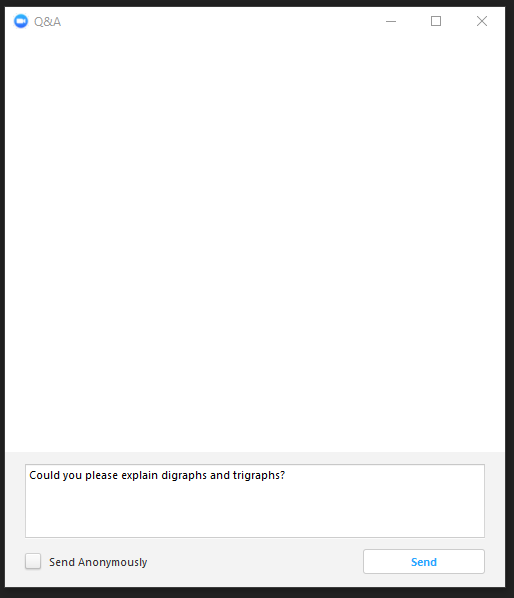 Chatting to Participants or Panelists:
We recommend you select "To: Everyone" before typing a message, so all participants in the chat, including our experts can answer your question or it can be raised live in the room with the presenter. The chat dialogue box will look similar to the following (depending on your platform):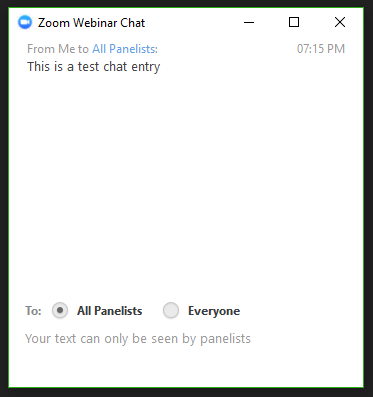 Raising your hand:
You can raise your hand to get the attention of a panelist, however we recommend that you use the chat facility instead.
Other Options
A poll may be raised in the LVC, where you can enter an answer to a question. You can also adjust the size of the video window (usually shown in the top right hand corner), or swap video for slides manually. We recommend you do not change the settings, we will live switch between slides and full screen video throughout the class for you, although when the video is shrunk, you may wish to make it larger using the buttons shown underneath the video window when slides are being shown.
Completing the Live Virtual Class
Upon closing the LVC, a feedback page should be shown in your browser, similar to the following: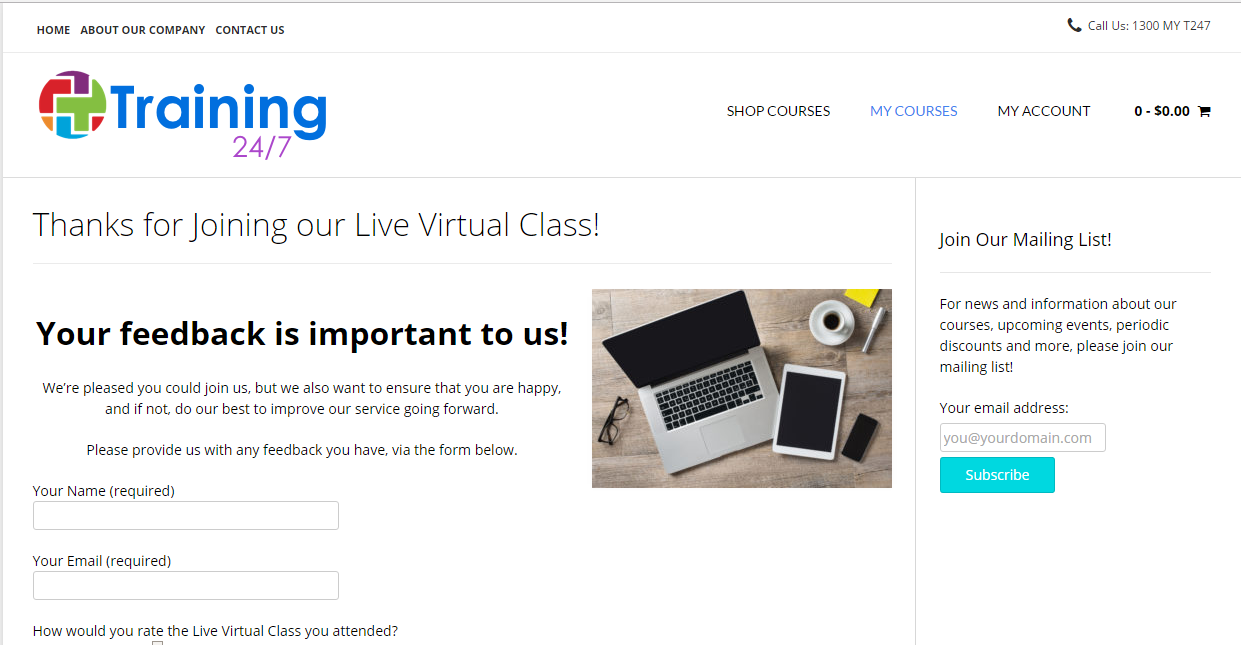 Please fill in the feedback form, to let us know how the training and the Live Virtual Class experience was for you.
Obtaining the Free Resources
As part of joining our course, you will receive free classroom resources. These are NOT required for the course. You may request we post these free resources to you on a USB stick, or you can download them directly from within our Learning Management System.
WARNING: The free resources zip bundle is large (700MB) and will likely take quite some time to download. DO NOT download this while participating in the Live Virtual Class, as it is may interfere with the performance of the LVC itself.
You can obtain the resources from "My courses" -> "Live Virtual Class Training" -> "Synthetic Phonics Training 10-MARCH-2017" -> "Resources Download"

Need technical assistance?
If you have any issues or questions please do not hesitate to contact us by email: sales@training247.com.au or Phone: 1300 698 247